Queen Elizabeth II visited more than 20 African countries during her reign, which saw the British Empire come to an end and independence sweep the continent. A special link to Britain endured through the Commonwealth of Nations, which the Queen led. It was a close – and sometimes complicated – relationship between the British monarchy and post-colonial Africa.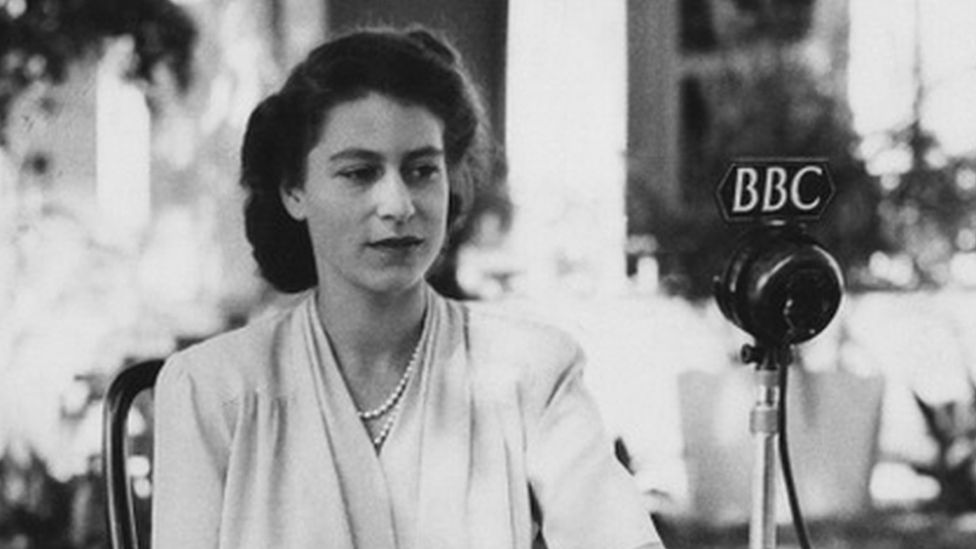 Princess Elizabeth made a broadcast from the gardens of Government House in Cape Town, South Africa on her 21st birthday, dedicating her life to the service of the Commonwealth.
"Everywhere I have travelled in these lovely lands of South Africa… my parents, my sister and I have been taken to the heart of their people and made to feel that we are just as much at home here as if we had lived among them all our lives," she said.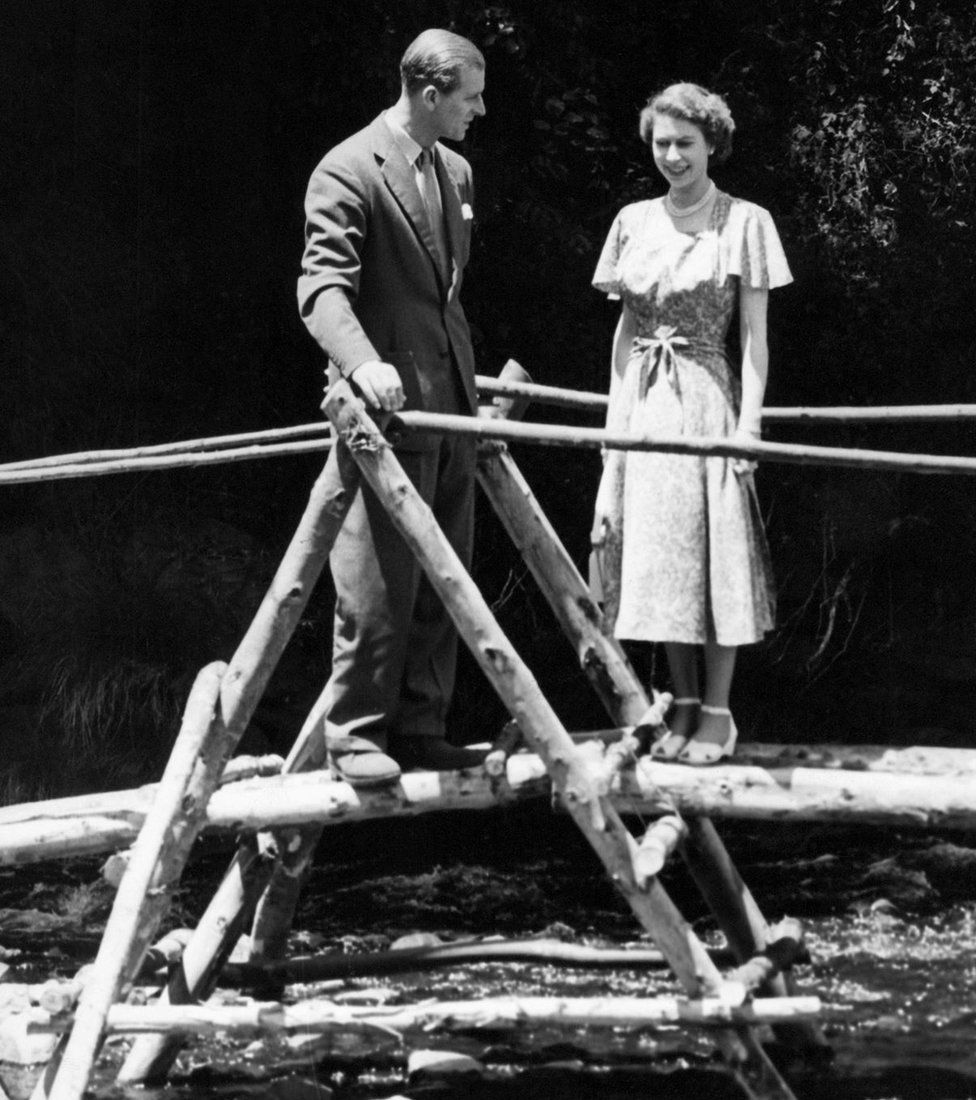 Princess Elizabeth is seen here at Treetops Hotel in Kenya with her husband, the Duke of Edinburgh in 1952. The day after this photo was taken, she heard the news that her father, King George VI, had passed away and she was to become Queen.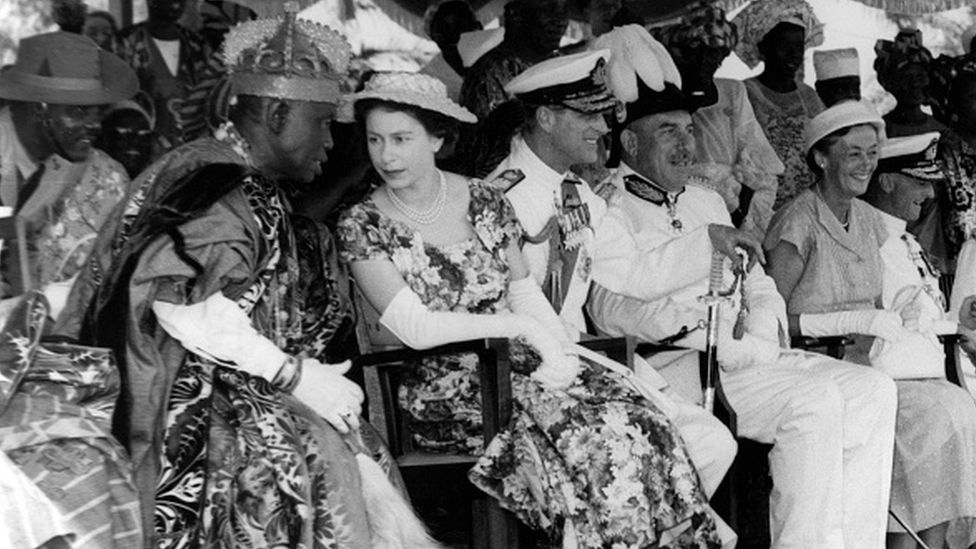 This was the first of two visits Queen Elizabeth made to Nigeria, in 1956, when it was still a British colony. The Queen is pictured here with Chief Oba Adenji-Adele II in Lagos. She also visited Calabar, Enugu, Jos, Kaduna, Kano and Port Harcourt.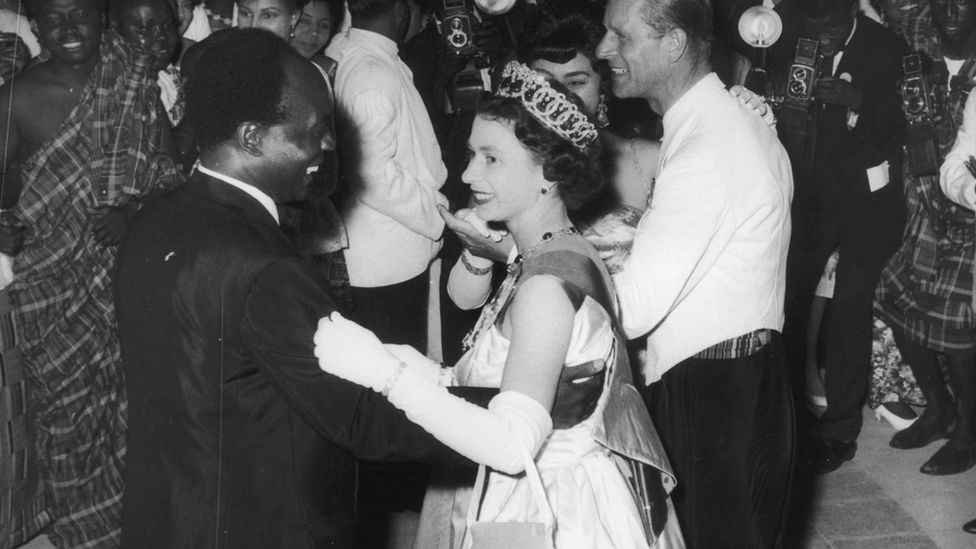 IMAGE SOURCE,GETTY IMAGES
Queen Elizabeth II dances with Kwame Nkrumah, Ghana's first president and a figurehead of the decolonisation movement during her visit in 1961, just four years after Ghana's independence. They danced to a high-life tune composed specially for the occasion called Welcome Your Majesty.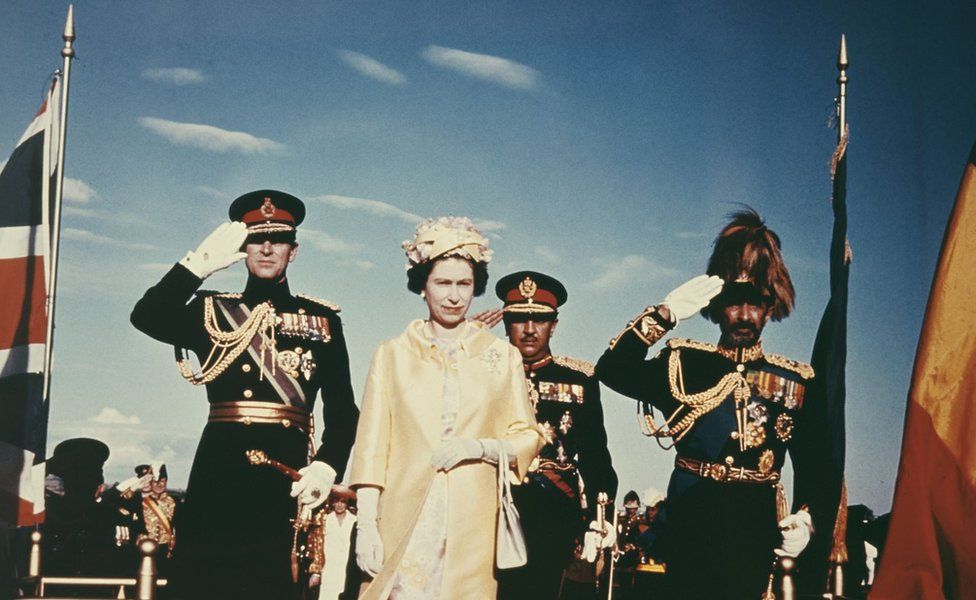 Queen Elizabeth and Prince Philip are pictured with Emperor Haile Selassie I of Ethiopia in Addis Ababa, during a state visit in 1965. The emperor took refuge in the United Kingdom between 1936 and 1941 following the Italian occupation of his homeland and was restored to the throne in 1941 when British and Commonwealth troops defeated the Italians.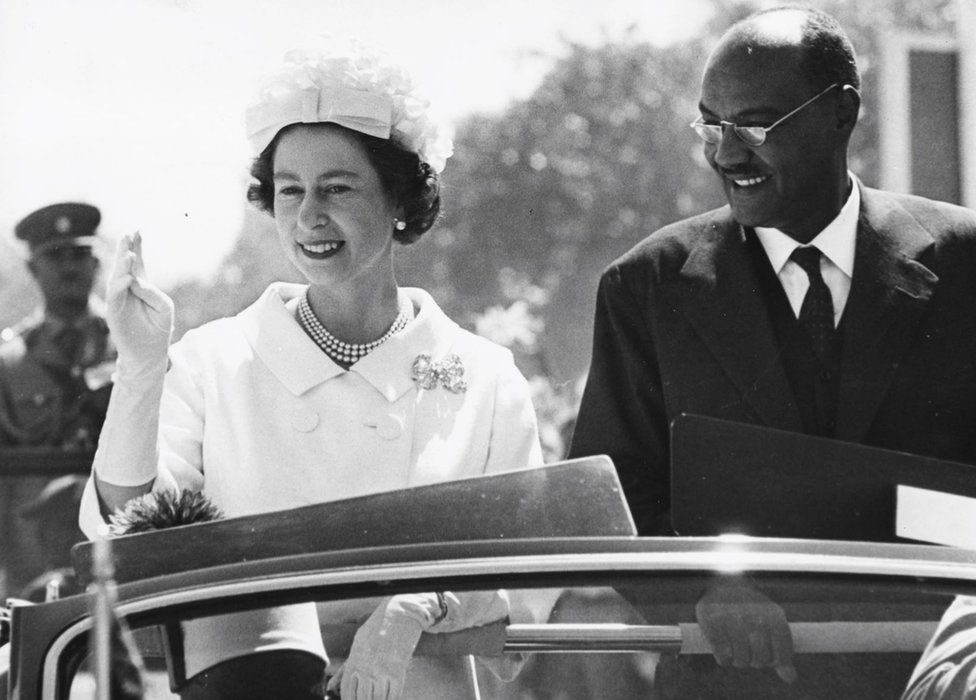 Queen Elizabeth and Sudan's President El Tigani El-Mahi on the state drive from Khartoum Airport, also in 1965. Her visit to Sudan included an afternoon of camel racing and a trip to the construction site of the Roseires Dam on the Blue Nile, which was completed the following year.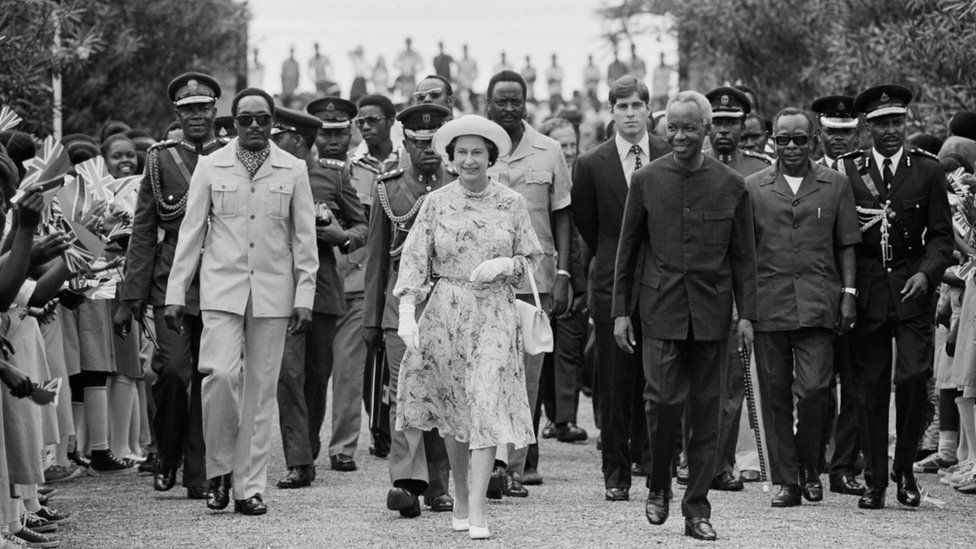 The Queen with Tanzania's President Julius Nyerere at the start of a three-day state visit in 1979.
Eighteen years previously, Dr Nyerere had led the former British protectorate of Tanganyika to independence, becoming its first prime minister and later its first president. Over the years, he became increasingly anti-British and anti-European.
Nevertheless, the UK government regarded him as a major stabilising force in an increasingly turbulent region.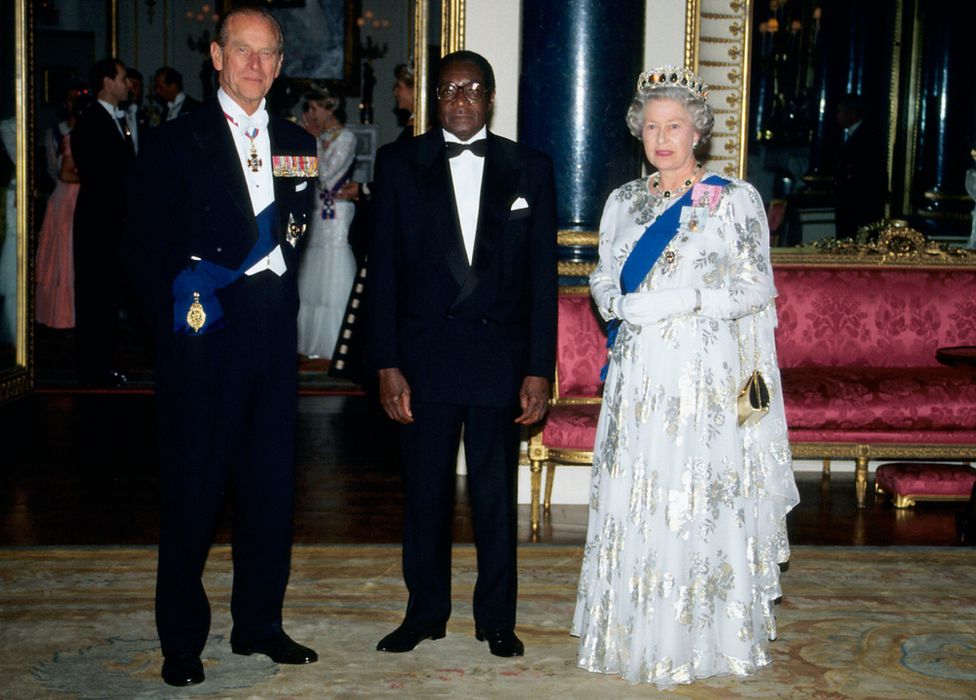 Zimbabwe's President Robert Mugabe was awarded an honorary knighthood by the Queen in 1994.
But as tensions grew between Zimbabwe and the UK government over the president's land reform programme and allegations of human rights abuses, Zimbabwe withdrew from the Commonwealth in 2003. Mr Mugabe was stripped of his knighthood in 2008.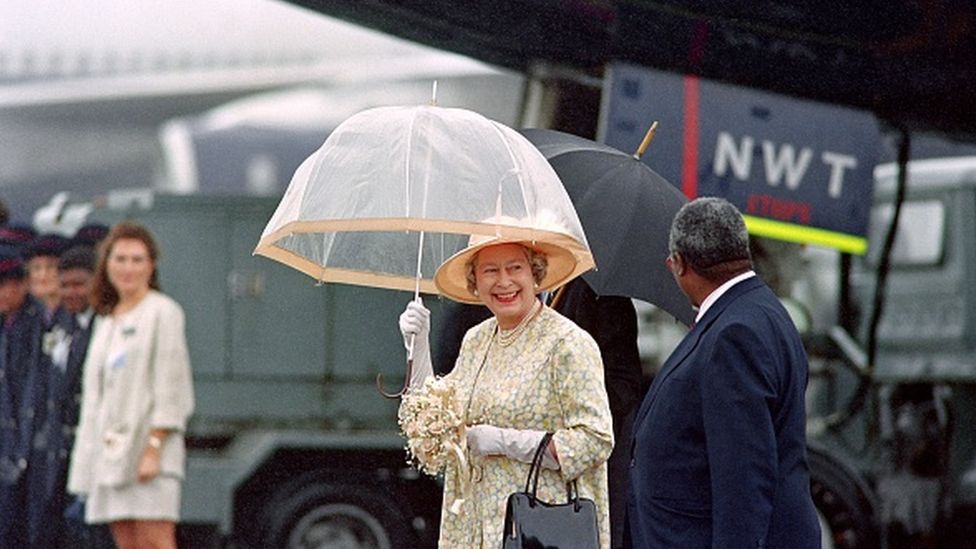 Queen Elizabeth is pictured arriving at Durban airport in 1995. She was on an official six-day visit to South Africa, which saw the best rainy season in 10 years, winning her the nickname Motlalepula, which means "to come with rain".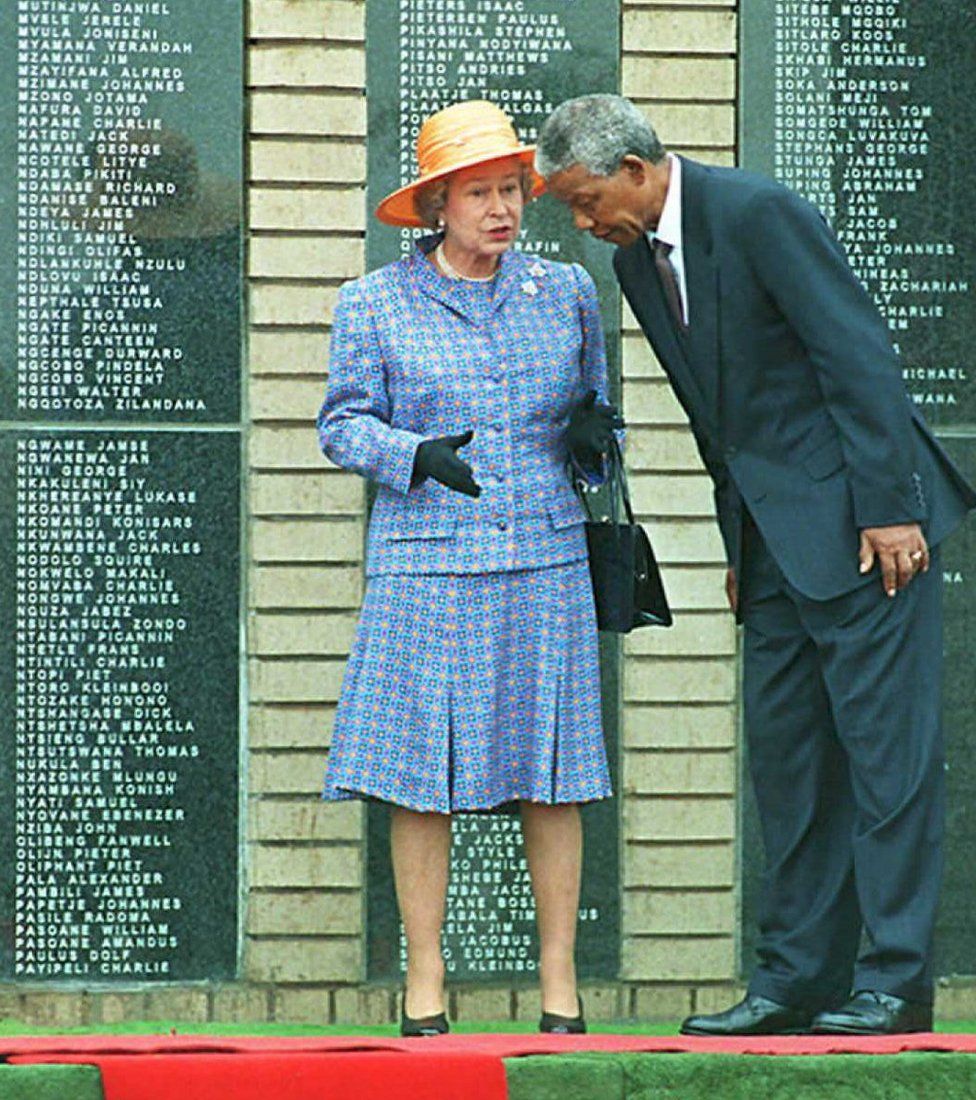 The Queen and South Africa's first black president, Nelson Mandela, were said to have a close friendship. The Queen signed letters to President Mandela with "Your sincere friend, Elizabeth R" and apparently referred to him as "Nelson", while it's said that he called her simply "Elizabeth" in a break from royal protocol.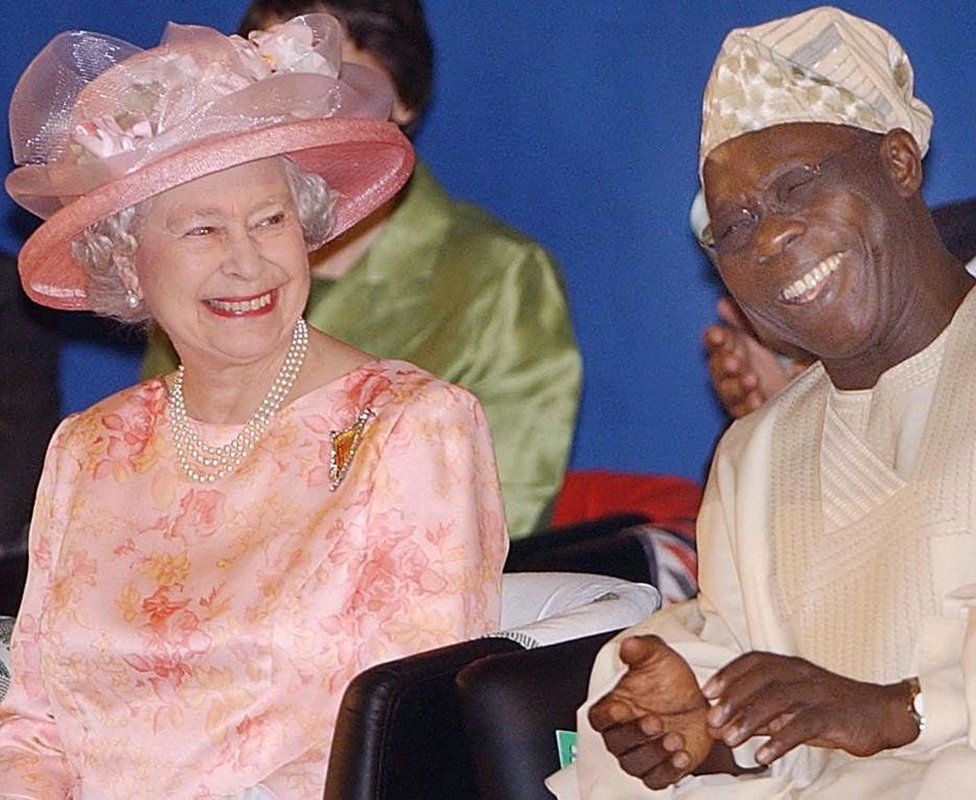 The Queen visited Nigeria for a second time in 2003. The country had been suspended from the Commonwealth over human rights abuses during Sani Abacha's military rule in 1995 and re-admitted in 1999 after a return to civilian rule. The Queen and President Olusegun Obasanjo are seen here at the official opening of the Commonwealth Heads of Government meeting in Abuja.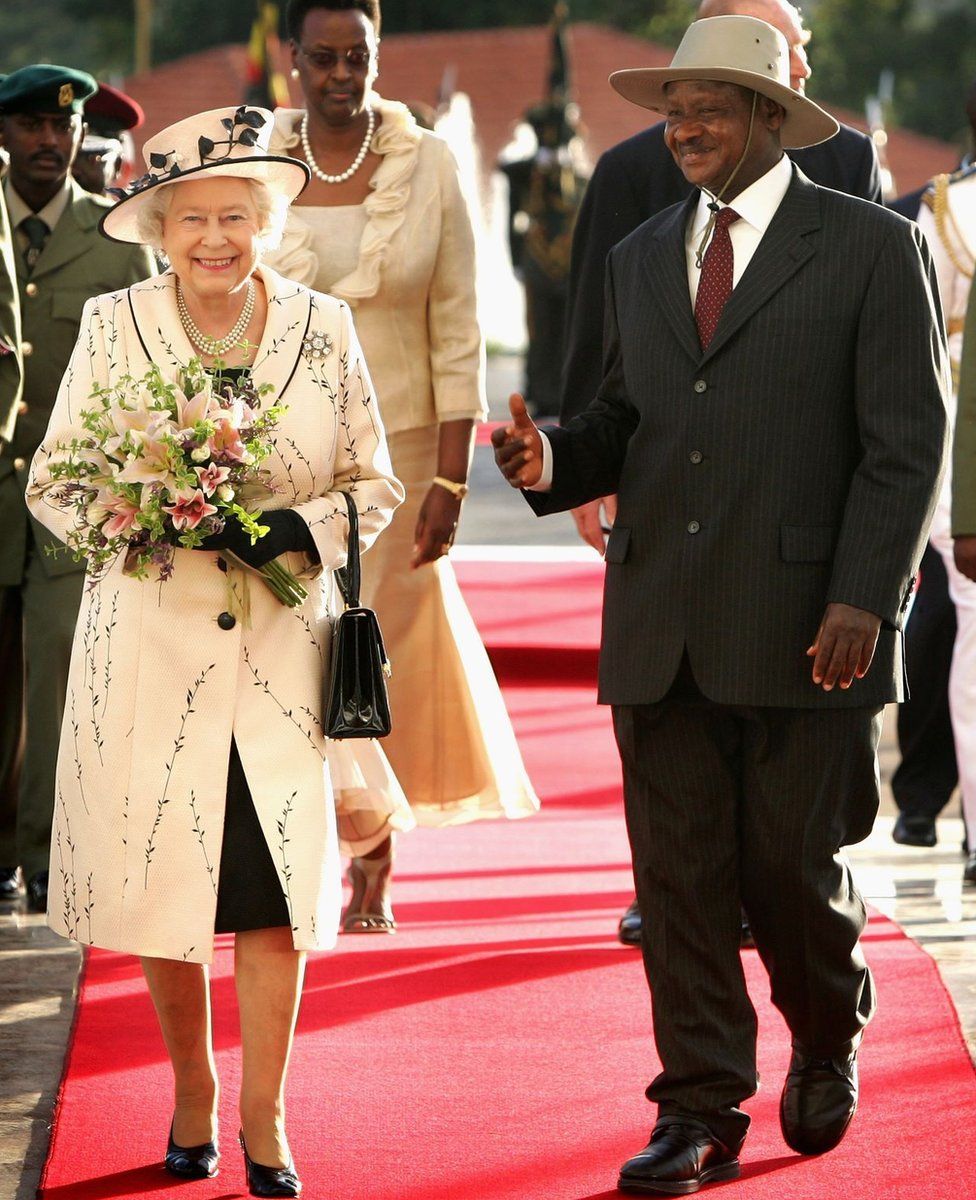 On her last trip to the continent, in 2007, Britain's longest-reigning monarch was met by one of Africa's longest-serving presidents, Yoweri Museveni, who has been in power since 1986. She had visited Uganda once before – on her first official state visit to Africa as Queen in 1954.
All pictures subject to copyright